Dumpster Rental Cockeysville MD
For the best dumpster rental Cockeysville MD and other surrounding areas have to offer, choose Trash Panda Dumpsters, LLC, for all your residential and commercial needs. We help contractors, business owners, and homeowners accomplish waste management goals with ease. Whether you're cleaning out the garage or clearing away construction debris, our company makes sure to get the job done on schedule and under budget with reliable and reasonably priced bins our customers can rely on.

We take great pride in serving Cockeysville, Maryland, and the surrounding areas of Baltimore with exceptional customer service and a wide selection of durable dumpster options. As a locally owned and operated company, our primary focus is on supporting and serving our community by delivering professional and personalized customer care. Our aim is to provide the #1 dumpster rental Cockeysville MD and its surrounding areas can rely on for both short-term and long-term waste disposal needs, all while ensuring a seamless and stress-free experience for our valued customers. With our unwavering commitment to service excellence, we strive to be the trusted partner for all your waste management requirements, contributing to the cleanliness and well-being of our beloved community.

Book the dumpster rental Cockeysville MD chooses as the area's top choice for quality equipment, outstanding customer support, and affordable prices. Homeowners with cleanout goals use our home dumpster rentals for a quick cleanup, or a DIY remodel. Contractors trust us to get them the containers that they need on their schedule. Talk to our friendly staff, and we'll answer any questions about our services by giving us a call at (443) 960-2108. Our online booking is available at any time for your convenience. Click the "Book Now" button to get started today!
We Take Just About Everything
Some examples of the junk we haul away include
Garbage Removal

Mattress Disposal

Foreclosure Clean Outs

Construction Waste Removal
Yard Waste Removal

Trash Removal

Appliance Removal
Television Disposal & Recycling

Furniture Removal

E-Waste Disposal

Hot Tub Disposal
Countless Reasons to Book a Dumpster Rental Cockeysville MD Uses to Get the Job Done
Use the local professionals and the best dumpster rental Cockeysville MD homeowners, contractors, and businesses count on for a variety of projects. When it comes to handling waste management needs, our reliable services are here to cater to projects of all sizes, be it at your residence, office, or construction site. Count on our expertise and dedication to deliver top-notch solutions that ensure a seamless and efficient cleanout and decluttering process. With our commitment to timeliness, our team will promptly transport a heavy-duty dumpster to your desired location, enabling you to kickstart and complete your project quickly and easily. Rest assured that our professional, friendly, and dependable team will keep your job site streamlined, helping you stay on track and achieve your goals. Experience the peace of mind that comes with our quality services, allowing you to focus on what truly matters while leaving the waste management responsibilities in capable hands.

When you have a driveway-friendly dumpster rental Cockeysville MD residents trust in your yard or driveway – your trips to the dump are a thing of the past. We work with business owners and contractors on a broad scope of single-use or ongoing waste removal needs. Our flexible scheduling works on your behalf, saving you time and energy in the process. We partner directly with the Cockeysville Resource Recovery Facility to ensure that all waste is disposed of responsibly and according to city,, and state regulations, so you can rest assured that when you work with Trash Panda Dumpsters, we'll manage the waste in an ethical and eco-conscious manner. If you're looking to rent a dumpster Cockeysville can depend on, click "Book Now" to get started!
Dumpster Rentals Cockeysville MD Homeowners Depend On for Projects Big and Small
When it comes to that big garage cleanout or kitchen renovation project, use the dumpster rentals Cockeysville MD homeowners trust most to get started. Area residents and property managers depend on our easy-to-load containers to haul away all of their trash, junk, and broken items. Our flexible rentals are available to homeowners for up to seven days and can be rented longer than that time, if needed, for an additional fee. We aim to meet your needs and help you save money with our new Balitmore residential dumpster rental.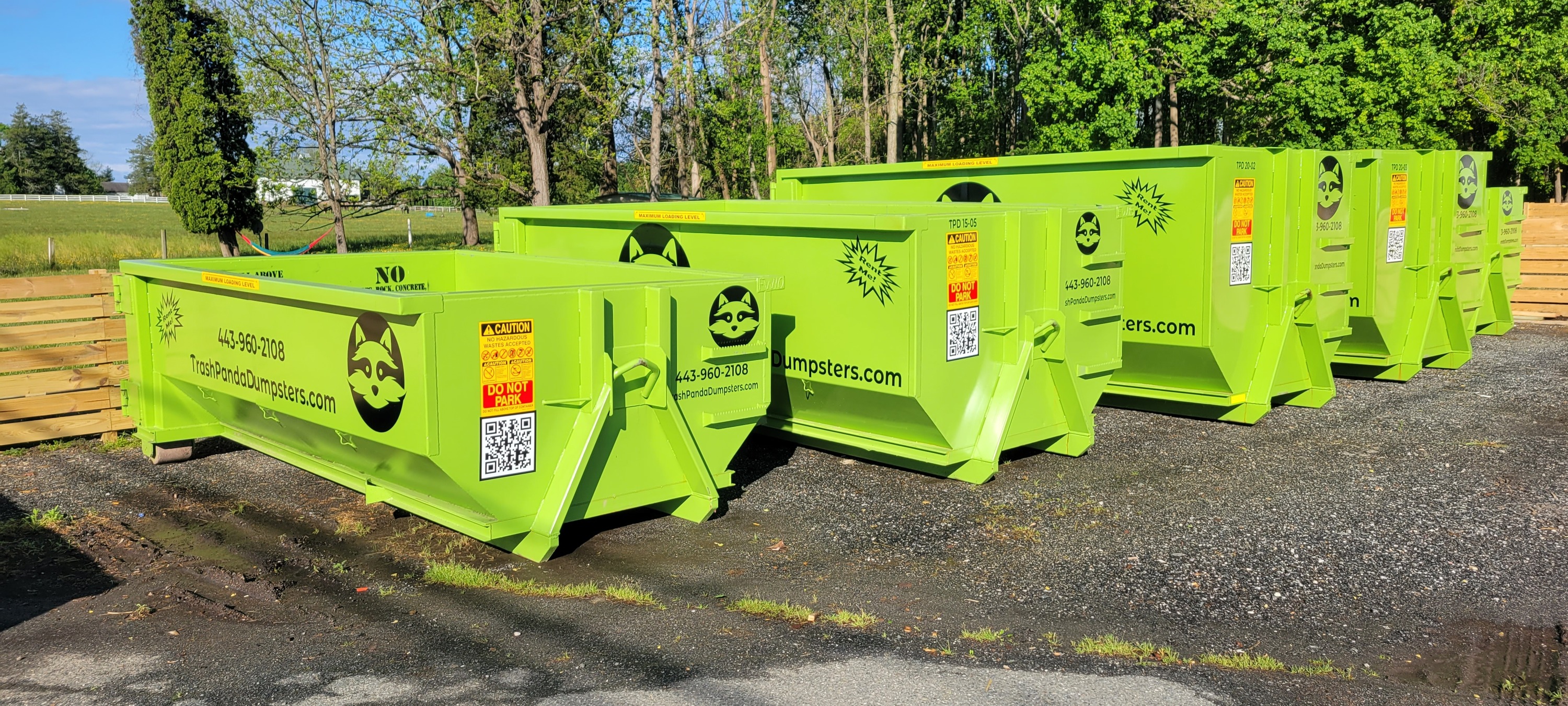 We offer garbage dumpster rentals Cockeysville Maryland homeowners know are an invaluable tool when you're removing old carpeting, fixtures, cabinets, or appliances. Our heavy-duty bins handle it all, containing bulky debris safely while you complete your residential repair, renovation, demolition, development, or cleanout. Confidently clear out your garage, attic, basement, or shed with the support of one of our bins. Give our team a call at (443) 960-2108 or browse our website to view available options and securely book online anytime.
Yard Waste Dumpster Rentals in Cockeysville MD for Landscaping and Cleanups
With the help of our dumpster rentals in Cockeysville MD, you can spruce up your yard in no time. Clear out overgrown trees, clean your gutters, replace your worn-out deck, and remove outdated projects such as your kid's old playground with our easy-to-load over-the-top bins. Our containers can manage tree stumps, brush, yard trimmings, and general waste. If you have any questions or concerns about what can be disposed of in our bins, reach out to our team to learn more today.

Book our small roll off dumpster rental Cockeysville MD homeowners can count on to handle the scope of their outdoor projects and create a yard they will be proud of. Increase your curb appeal with a complete landscaping overhaul, or clean up after a brutal storm with the added support of our roll-offs. Schedule a delivery online to rent a dumpster Batlimore MD can depend on today!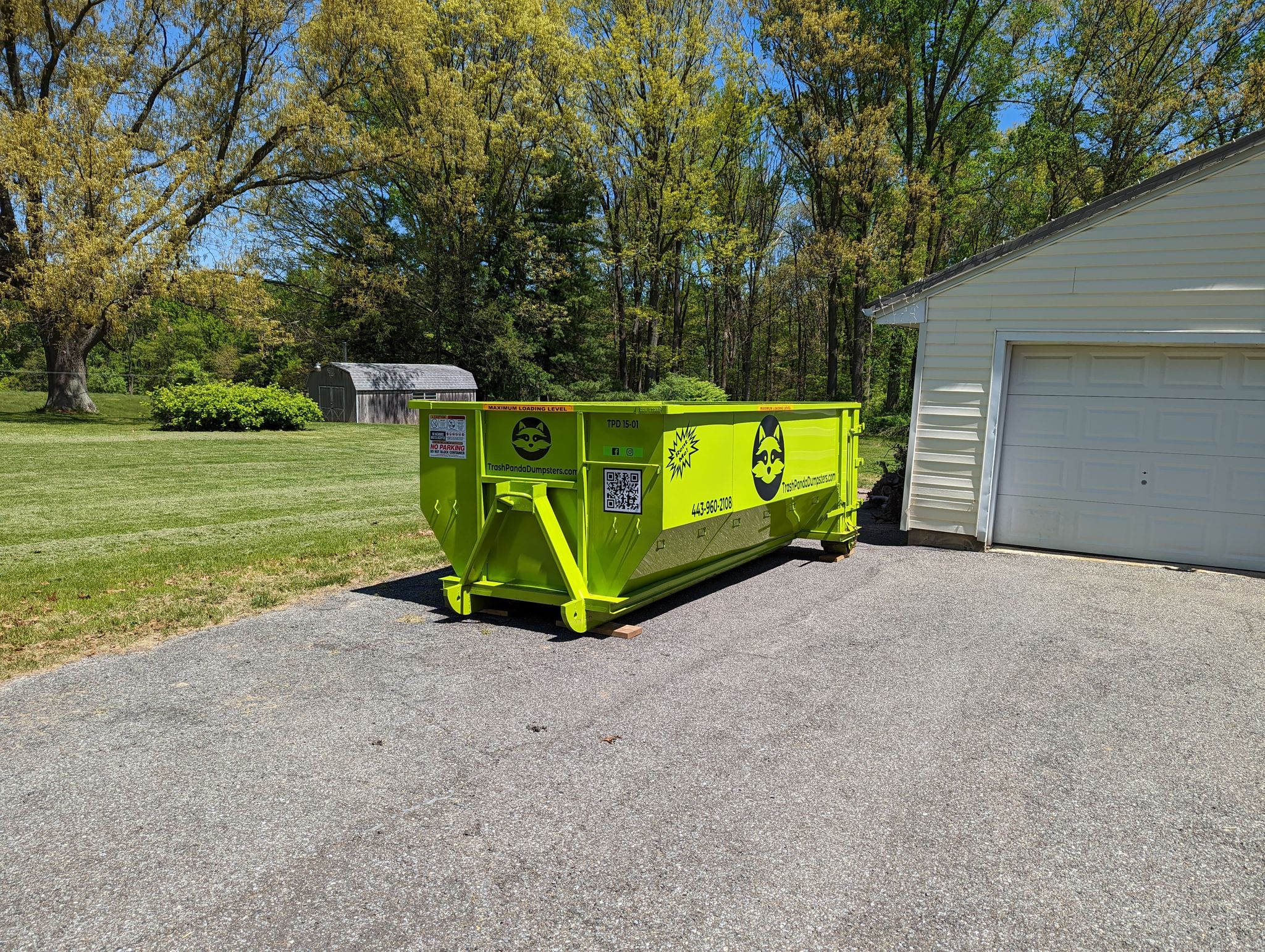 Roll Off Dumpsters Cockeysville Business Owners Can Rely On
Word has spread far and wide about the unmatched reliability of our roll off dumpsters Cockeysville business owners rely on. We understand that when you're running a business, the last thing you need is the hassle of managing garbage and debris. Luckily, that's where we come in. Trash Panda Dumpsters is the go-to residential dumpster rental Cockeysville businesses deserve. Whether you're tackling a foreclosure cleanout or preparing for an expansion at your office park, our team is here to provide the support you need.

Choose a local roll off dumpster Cockeysville MD depends on, whether it's for single-use or ongoing rental needs. We genuinely care about the success of your upcoming project and prioritize delivering top-notch customer service to our commercial clients. With our responsiveness, courtesy, and commitment to excellence, we value your ongoing business and strive to provide you with the best options for a Balitmore roll off dumpster rental. Simply give our dedicated team a call at (443) 960-2108, and we'll be more than happy to assist you in determining your waste management requirements.
Roll Off Dumpster Rental Cockeysville, MD Contractors Use to Clear Heavy-Duty Waste
We provide the roll off dumpster rental Cockeysville, MD contractors use to effectively manage debris containment and disposal on their job sites. Contractors can totally nail their jobs by using dumpster rentals, tossing away all the debris, waste, and clutter so they can focus on building amazing stuff without the mess. We understand the importance of sticking to strict schedules, which is why our team of courteous professionals guarantees on-time drop-off and pick-up for your utmost convenience. Whether you require a short-term solution or an ongoing rental, we offer cost-effective options that cater to your specific needs. With our large dumpsters for rent Cockeysville contractors can easily schedule and adjust as projects evolve.

Our heavy-duty dumpsters for rent in Cockeysville MD are designed to handle various materials, including plastic, drywall, lumber, tile, and other waste materials commonly found on job sites. You can trust our local company to provide reliable solutions that meet your specific requirements. Additionally, we offer concrete and dirt disposal services to cater to a wide range of project needs. Reach out to our team today by calling (443) 960-2108, or conveniently book your rental from any device through our user-friendly website. Experience the peace of mind that comes with partnering with a trusted and dependable construction dumpster rental new Cockeysville has to offer.
Roll Off Dumpsters Cockeysville MD Roofers Count On for Safe and Efficient Waste Disposal
Our company provides roll off dumpsters Cockeysville MD roofers can't complete projects without! Having a reliable, heavy-duty dumpster on the ground to manage and contain roofing material waste is the only safe way to complete a residential repair, commercial replacement, or any other roofing endeavor.

Book the new Cockeysville dumpster rental contractor and construction professionals rely on to haul away shingles, lumber, tile, and other debris. Let us know where to place the container, and you're ready to start the work. Partner with us on your next roofing job, and we're certain you'll appreciate our upfront pricing on durable roll off dumpster rental Cockeysville businesses, homeowners, and roofers trust. Dumpster rentals are a roofing company's best friend, providing a convenient and efficient solution for disposing of old shingles, debris, and other roofing materials, saving them time and headaches during your projects. Book online today!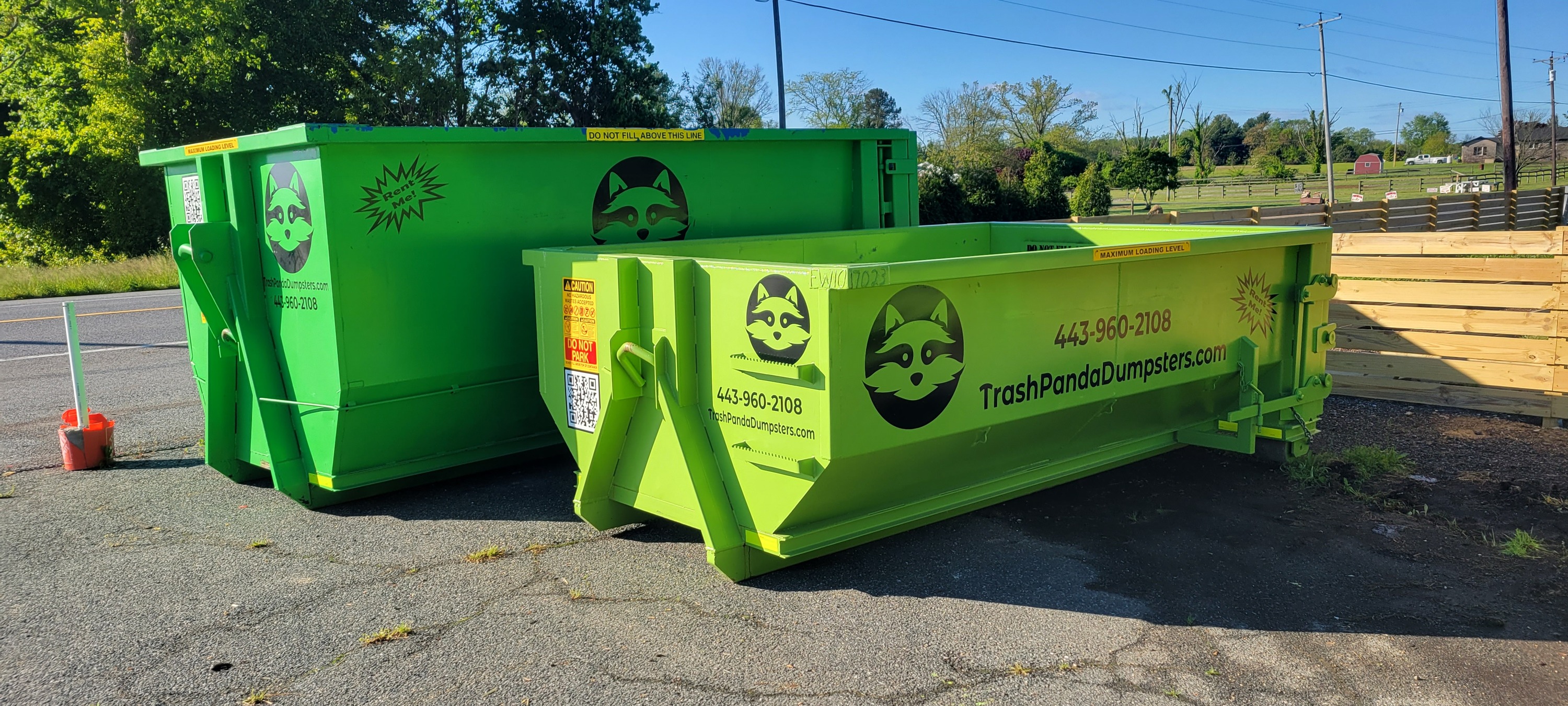 Choose Our Selections for a Dumpster Cockeysville and Surrounding Areas Trust for Reliable Support
For service you can trust at prices you can't beat, the team at Trash Panda Dumpsters is here to help you book the best dumpster Cockeysville has to offer. Whether you're hoping to start that bathroom remodeling project or need to find a suitable ongoing waste management solution for your small business, we're confident we have the #1 selection for your residential or commercial needs!

As a fully insured and licensed locally-owned business, we prioritize safety above all else. We carry durable, heavy-duty containers from reputable manufacturers in the U.S., so you can rest assured that when you rent from us, you're renting a clean, industry-standard new Cockeysville roll off dumpster. Trash Panda Dumpsters takes the crown as the top-notch waste disposal company in the area, thanks to their winning combo of unbeatable affordability, top-quality rentals, community involvement, and a user-friendly online booking system. When it comes to getting rid of your junk and keeping Cockeysville waste-free and wonderful, we're the undisputed champs! Don't sweat your next development job or home improvement project with the added support of our dumpsters for rent in Cockeysville MD. Book a dumpster using our convenient scheduling tool or give us a call at (443) 960-2108!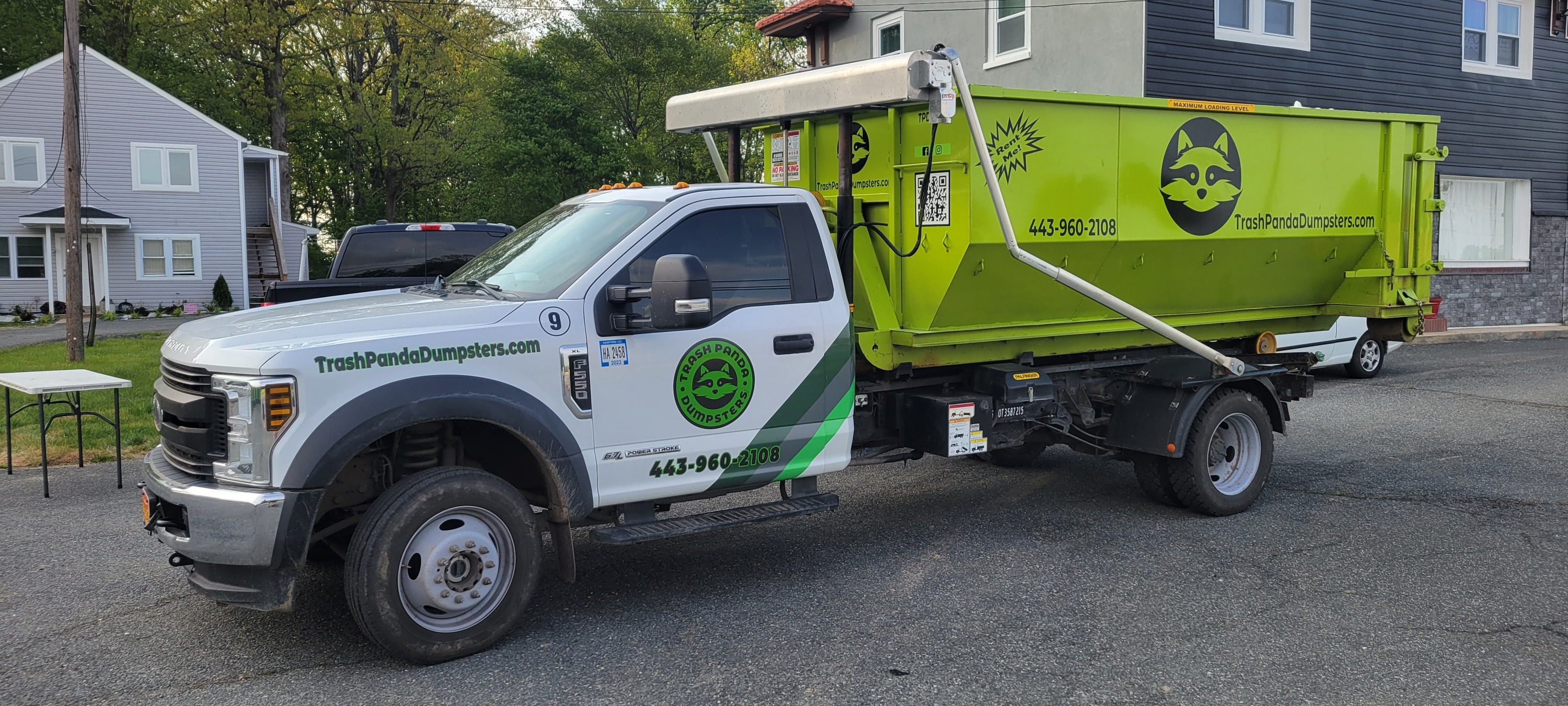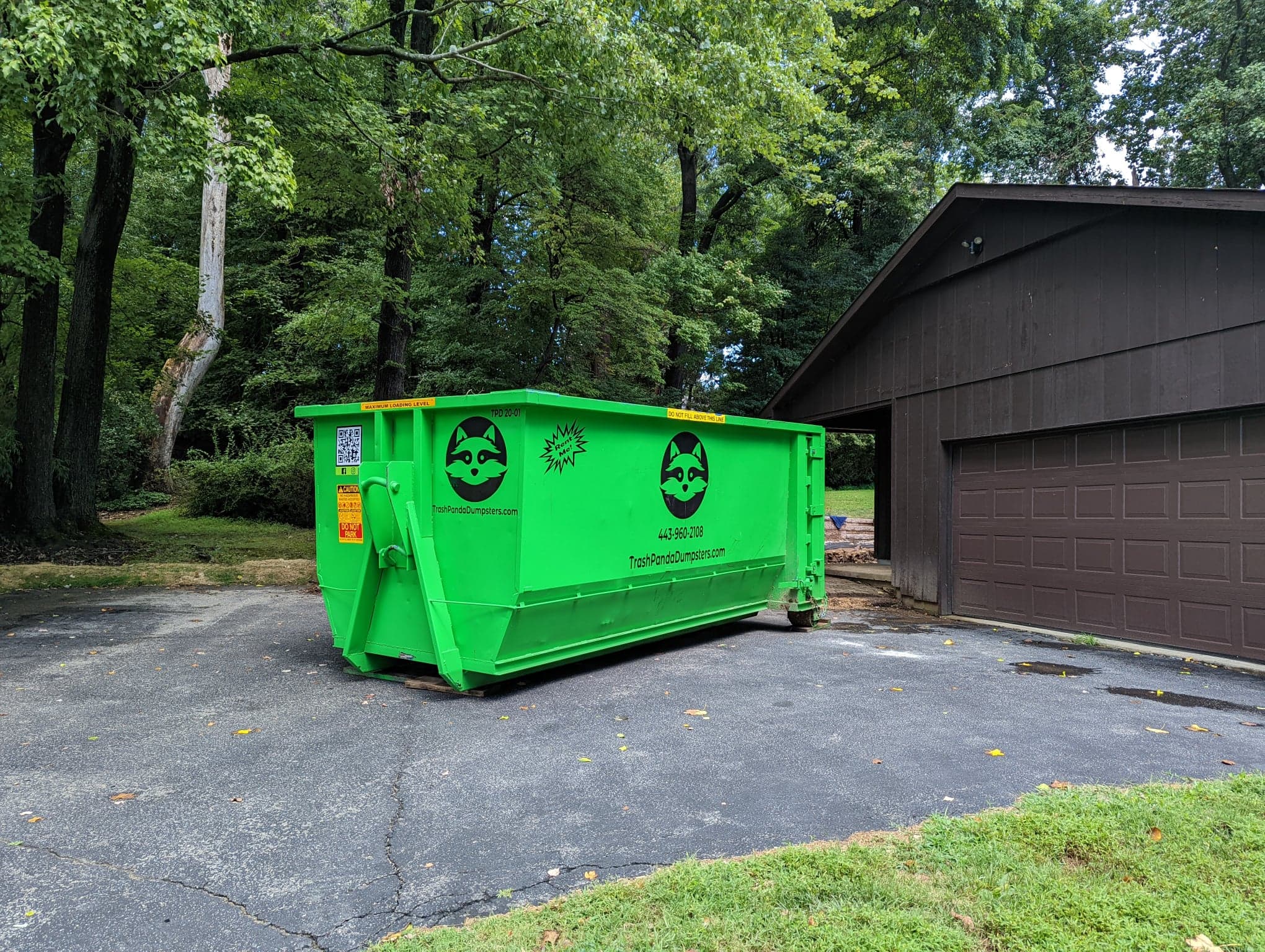 How to Reserve a Cockeysville Dumpster Rental Online With Ease
Booking a Cockeysville dumpster rental couldn't be easier with our convenient, easy-to-use, and secure online booking system. We provide you with the tools you need to reserve a container at any time, day or night, and from any device. We do our best to work with your schedule. If you have any questions about reserving a bin or our availability, call (443) 960-2108 and speak to one of our trash pandas to learn more!

1) From any page on our website, click on the green "Book Now" button to get started on scheduling a bin online:
2) Browse our 10-yard, 12-yard, 15-yard, or 20-yard rentals and click the "Book Now" button next to your desired size.
3) After you've chosen your size, click "Add to Cart." Select your desired rental date.
4) Review the dumpster prices and details, then click "Checkout."
5) Enter your information, dumpster placement, and a brief description of the materials you need to dispose of.
6) Submit your payment with any major credit card.

Once you've submitted payment using our secure system, you'll receive an email confirmation with a digital copy of the receipt. Our team will send a text when one of our drivers is on the way to deliver your Cockeysville roll off dumpster rental. We're here to help if you have any questions along the way, so don't hesitate to give us a call about the budget roll off rental Cockeysville can't complete projects without! Booking online with Trash Panda Dumpsters is a breeze – just a few clicks, and you're good to go. No more hassle of endless phone calls or waiting on hold. We've made it super easy to secure your dumpster rental right from the comfort of your couch anytime and anywhere.
Cockeysville Dumpster Rental Prices and Sizes You'll Appreciate
Our company provides Cockeysville dumpster rental prices and sizes to help you complete your project with ease. We're committed to keeping our prices low, making it easy to budget for your waste disposal project, no matter the scale or scope. Take a look at our sizing and rental options below, then get started with the scheduling process with a few simple clicks.
10-Yard Dumpster
Measuring 12' long by 89'' wide by 42'' high, our 10-yard bin begins at $350 for up to seven days to rent, with 1.5 tons of waste disposal included in the base price. This is a great option if you are looking for a durable and cheap dumpster rental Cockeysville can depend on for smaller-scale projects, like clearing out a bedroom, renovating a small half bath, or tidying up a rental property.
12-Yard Dumpster
This rental measures 12' long by 78'' wide by 50'' high and begins at $375 for up to seven days to rent, with 1.5 tons of waste disposal included in the base price. This driveway-friendly option is available at one of the more competitive dumpster rental Cockeysville prices. When it comes to 12-yard dumpsters, the possibilities are endless – from tackling home renovations and small construction projects to decluttering your garage or basement, these bad boys can handle it all.
15-Yard Dumpster
This rental measures 14' long by 88'' wide by 48'' high and begins at $400 for up to seven days to rent, with 1.5 tons of waste disposal included in the base price. We have no doubt these are the highest quality dumpsters for rent Cockeysville can provide for contractors and businesses searching for larger container options. If you're dealing with a slightly bigger mess, the 15-yard dumpsters are your go-to solution. Perfect for medium-sized projects like remodeling a couple of rooms or cleaning out that old attic, these dumpsters are up for the challenge.
20-Yard Dumpster
This rental measures 14' long by 7'' wide by 5' 10'' high and begins at $475 for up to seven days to rent, with two tons of waste disposal included in the base price. Need to tackle a sizable project? The 20-yard dumpsters are here to save the day. Whether you're taking on a major home renovation, clearing out a large space, or even handling a commercial job, these heavy-duty dumpsters can handle the load with ease. We have no doubt this is a great option if you're looking to rent a roll off dumpster Cockeysville contractors and businesses need for larger-scale waste disposal projects.
Get in touch with our team for the most affordable dumpsters Cockeysville has to offer and get started on your waste removal project today! Browse our available selections online or give us a call at (443) 960-2108 to speak directly with our staff.
Delivering Options for a Dumpster Rental in Cockeysville MD and Beyond
We regularly partner with local businesses, community organizations, and Baltimore County Public Schools for their ongoing waste management and trash containment needs. We're proud to do our part in keeping our communities waste-free and enjoyable places to live and work in. As our cities continue to grow, we're eager to provide convenient and dependable options for the dumpsters Cockeysville MD deserves. We're happy to contribute to keeping our community clean and enjoyable. Whether you're spending the day at one of our beautiful local parks, like Oregon Ridge Park, Loch Raven Reservoir, NCR Trail, or enjoying the sights, including the Ladew Topiary Gardens, our company plays a role in beautifying our community.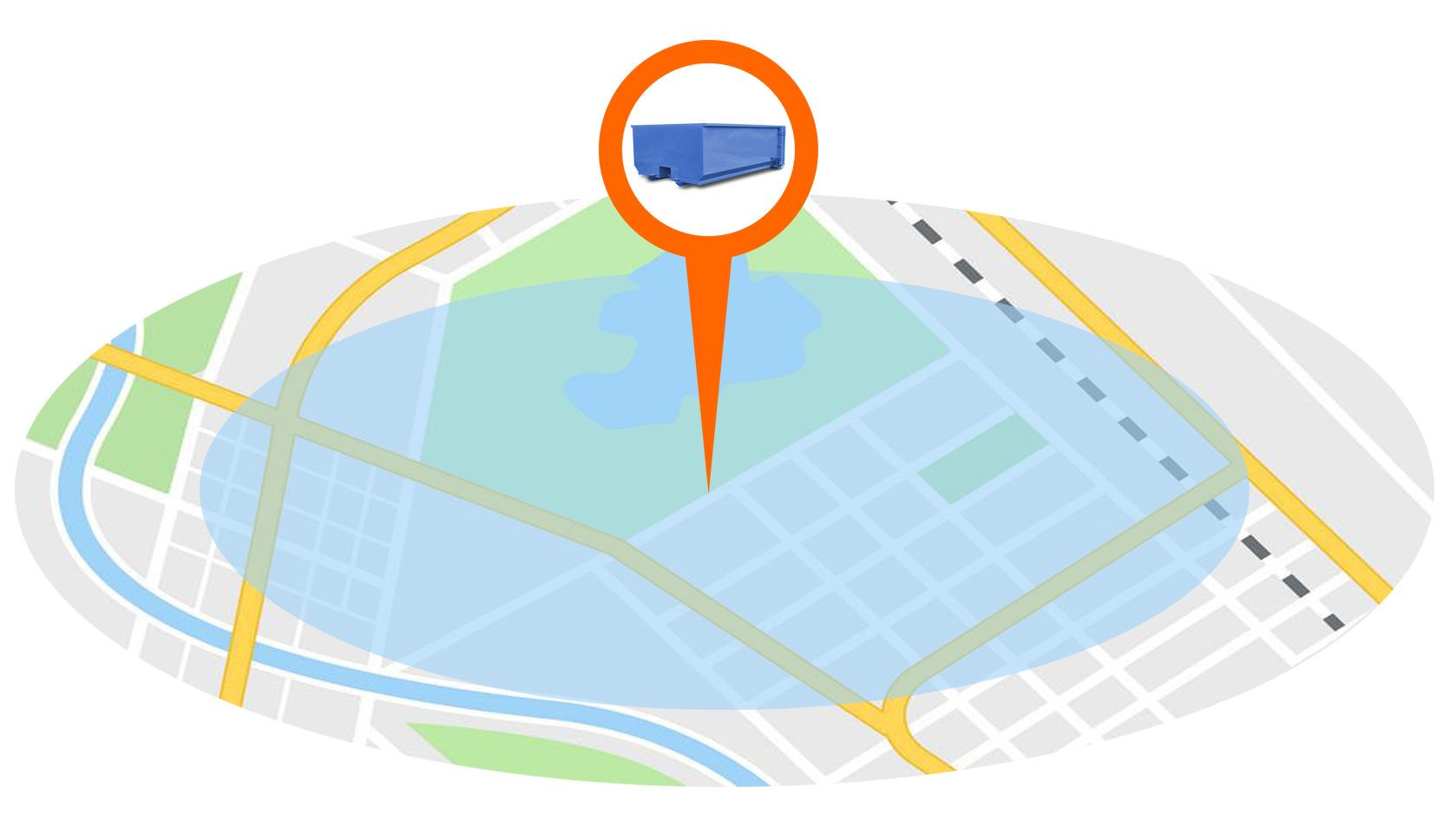 Trash Panda Dumpsters offers several delivery options for a dumpster rental in Cockeysville MD and other surrounding areas. We are happy to offer delivery to the 21030 and 21031 zip codes, along with other surrounding areas of Baltimore County. Our service cities include Bel Air, Fallston, Abingdon, Forest Hill, Joppatowne, Emmorton, Churchville, Jarrettsville, Whitemarsh, Belcamp, Middle River, Perry Hall, Kingsville, Nottingham, Parkville, Bowleys Quarters, Essex, Rosedale, Street, Pylesville, Towson, and all areas in between. If you're on the hunt for the #1 dumpster rental Towson MD has to offer, you're in the right place! We frequently deliver to areas outside of our listed region, so give us a call if you don't see your city or zip code listed and we'll discuss options.
Book Online Now
FAQs About Our Cockeysville Dumpster Inventory and Process
We understand there are many factors to consider when choosing the best Cockeysville dumpster for your upcoming project, and you may need more information before moving forward, so take a look at our frequently asked questions below. Get in touch with our team to discuss your options by giving us a call at (443) 960-2108 or book your rental online today!

If you need any more information about our services, price points, or size options, give us a call or book online today. We are dedicated to providing the #1 dumpster service Cockeysville has to offer. Whatever your project or worksite goals, our rentals will help get the job done right the first time.
Q.
How much does it cost to rent a dumpster?
A.
Trash Panda Dumpsters hooks you up with wallet-friendly dumpster rentals that don't skimp on quality. Several factors play a role in our pricing, including the size of the container, the rental period, and how much weight is being hauled away. If you've been searching for the cheapest dumpster rental Cockeysville has to offer, look no further than our 10-yard roll-off, starting at $425. Our largest container, the 20-yard, begins at $575 for up to seven days. We understand many people are searching for a cheap roll off dumpster rental Cockeysville MD can depend on, but along with affordable selections, we also prioritize excellent customer service, on-time delivery, and versatile selections that suit all project goals, big or small.
Q.
What can we load into the dumpsters?
A.
We accept mattresses, yard waste, appliances, furniture, hot tubs, and general waste with our roll off dumpster Cockeysville MD relies on to efficiently clear waste and bulky materials. We cannot accept heavy construction debris. If you're unsure if what you need to dispose of falls into that category, give us a call at (443) 960-2108 to discuss your options with one of our team members.
Q.
Do you service my area?
A.
We're happy to offer the highest quality and most durable dumpster in Cockeysville across many of our communities. Trash Panda Dumpsters frequently delivers units to surrounding counties and special accommodations can usually be made to suit your project - and your wallet. We want our customers to have a quality experience renting a dumpster Cockeysville MD can rely on.